Can you find all of the hidden ships?
All Puzzles
Today's Puzzles
All daily items change at midnight GMT (UTC+0).
---
---
Notes
---
---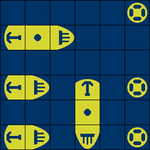 Can you find all of the ships hidden in the grid? The numbers around the edge tell you how many ship pieces appear in each row and column.
Read the help / walkthrough page on Battleships puzzles for the rules, a more detailed explanation, and a walkthrough.
Note: BrainBashers has a Dark Mode setting.