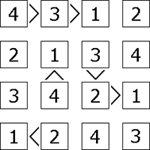 Daily Futoshiki

Can you complete the grid and satisfy the < > symbols?
Notes
Can you complete the grid such that every row and column contains every number exactly once? But you also have to satisfy the less-than (<) and greater-than (>) signs.


Read the help/walkthrough page on Futoshiki for the rules, a more detailed explanation, and a walkthrough.


The Hard puzzles can be quite hard and often require the more advanced Sudoku techniques.