Can you complete the grid and satisfy the < > symbols?
All Puzzles
Today's Puzzles
All daily items change at midnight GMT.
Notes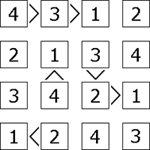 Can you complete the grid such that every row and column contains every number exactly once? But you also have to satisfy the less-than (<) and greater-than (>) signs. The Hard puzzles can be quite hard and often require the more advanced Sudoku techniques.
Read the help / walkthrough page on Futoshiki for the rules, a more detailed explanation, and a walkthrough.

Would you like a (free) Sudoku for a small, local, community newsletter? Or a monthly puzzle for your company's bulletin? Or a range of puzzles for your local newspaper? Or puzzles for a project of any size? KNS Puzzles was set up by my brother (Julian), specifically to provide commercial access to all of my content (current and old). If it involves BrainBashers puzzles, he will try his best to help. Take a look at my contact page for more information.