Can you find all of the tents in the forest?
All Puzzles
Today's Puzzles
All daily items change at midnight GMT (UTC+0).
---
---
Notes
---
---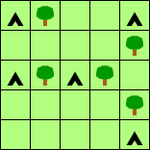 Can you find all of the tents, each of which is attached to a tree? The numbers around the edge tell you how many tents appear in each row and column. A tent can only be found horizontally or vertically adjacent to a tree, and tents are never adjacent to each other, neither vertically, horizontally, nor diagonally.
Read the help / walkthrough page on Tent puzzles for the rules, a more detailed explanation, and a walkthrough.
Note: BrainBashers has a Dark Mode setting.