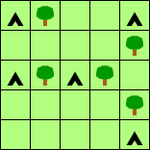 Daily Tents

Welcome to Tents - a logic puzzle with very simple rules.
Click the link below to access the Weekly Special
Notes
Can you find all of the tents, all of which are attached to trees? The numbers around the edge tell you how many tents appear in each row and column. A tent can only be found horizontally or vertically adjacent to a tree, and tents are never adjacent to each other, neither vertically, horizontally, nor diagonally.


Read the help/walkthrough page on Tent puzzles for the rules, a more detailed explanation, and a walkthrough.